The traditional core of the birder's optical gear is a pair of binoculars. For birders, nothing compares to getting an incredibly close-up look at a rare bird in its natural habitat.
Binoculars
can bring you close to the bird, but a spotting scope is more effective if you want to confirm the identity of the bird or really look it in the eye.
Spotting scopes
have excellent optical quality for birdwatching and offer remarkable magnification in a relatively straightforward and lightweight form that is sturdy enough for field use.
Here we'll talk about viewing birds via the spotting scope's strong magnification.
Looking Closer
For birders who are intent on getting close to the action, the spotting scope is becoming more and more desirable. The spotting scope may initially appear to be a telescope, but due to its image-erecting prism structure, it is more closely associated with a monocular. It offers birders greater magnification capabilities, and many spotting scope eyepieces may provide magnifications of up to 60x or higher.
Supports and Portability
Given its extreme magnification, handholding a spotting scope in the field necessitates bringing a tripod and tripod head (or some kind of support) along with you. This is important to keep in mind when determining how far away from home or where you will be setting up the spotting scope.
Angled or Straight
There are two basic designs for spotting scopes: straight viewing and angled viewing. It all depends on whether the erecting prism at the back of the scope sends the light path parallel to the body or at an angular position of 45 degrees—to the body. One of the initial factors a birdwatcher must assess when purchasing a spotting scope is whether it has a straight or angled design. However, the
angled scope
provides more comfortable viewing. In general, users, especially novice birders, find it easier to acquire and follow birds using a
straight scope
.
Eyepieces and Objectives
The objective diameters and eyepiece magnifications of spotting scopes serve as distinguishing characteristics. Like a pair of binoculars, those with fixed eyepieces will list both the magnification and objective diameter in the product name. The objective size is the only information provided for scopes with replaceable eyepieces. The larger the objective, just like with binoculars, the more light-gathering power the scope has. The trade-off is that, depending on the other characteristics, larger glass equals more weight and generally costs more money.
Magnification through the eyepiece is still another major element. This is the area of the spotting scope that you should be focusing on. Eyepieces are usually included with scopes. While many scopes offer interchangeable alternatives and the user has the option of set magnification or zoom versions, some eyepieces are not interchangeable.
Although high-quality zooms are fantastic, fixed focal length eyepieces provide somewhat better optical quality than zoom eyepieces at the cost of flexibility. The zoom eyepiece is a need for birding because it allows the observer to zoom out to a larger field of vision, find the bird they want to see, and then zoom in for a closer look.
Other features
Spotting scopes have varying degrees of features. you should probably check that your spotting scope is fog and water-resistant, just like when buying birding binoculars. To protect their surfaces and offer a stickier surface to grip, certain spotting scopes have rubber armoring.
Top picks:
SPOTMASTER Series Spotting Scope(Straight)
Available in 12-60x magnification, are designed to enhance your viewing pleasure.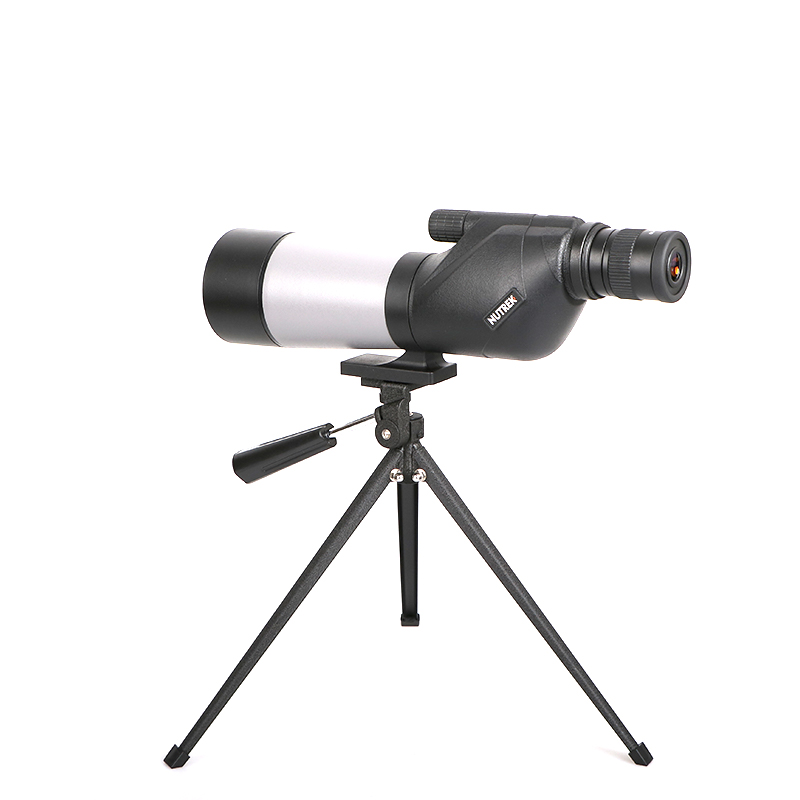 Rugged, and compact for hunting, backpacking, and adventure travel. Nutrek Spotmaster is the best choice for outdoor enthusiasts and bird watchers.
This spotting scope is easy to take with you when you are out in nature or on a journey also excellent to have on the shooting range.
This spotting scope is supplied with everything you need to go started.
The ABS body and compact dimensions make the Nutrek Spotmaster a lightweight and handy companion wherever you go.
It is perfect for target shooting, archery, hunting, wildlife watching, hiking, camping, scenery, outdoor sporting, astronomical observation, etc.
The tough rubber coating and nitrogen purge provide a waterproof bod
Past Topic: