We're going to look at some outstanding pistol red dot sights today. Let's discuss some characteristics of a good red dot sight.
Iron Sights vs. Red Dots
Every operator and instructor who is worth their salt has a red dot on their defensive handgun, it seems.
But is the upgrade worthwhile?
There are a few things you should think about before investing in one.
DOT SIGHT
An optic designed for use in close-to-midrange shooting situations is a
red dot sight
.
A tiny red (or green) LED light in the optic platform casts an angled beam of light over a specially coated glass lens to create a red dot.
In other words, you get an interlaminated red dot reticle that you may utilize to sight in your target.
What's best?
Red dots improve shot timing, accuracy, and target acquisition.
Red dots are popular among shooters and they enjoy them so much that they are now adding them to their defensive weapons. What about iron sights, though?
IRON SIGHTS
The tried-and-true way of aiming a gun is using iron sights.
Iron sights are the metal stubs that are attached to either end of your pistol slide, in case you are unfamiliar. Even though the makes and types of handguns can differ in size (and even color), they all work the same.
ADVANTAGES OF USING RED DOT
You naturally want to gaze at your objective when you engage a target, especially when you're under pressure. However, you must pay attention to your rear sights to aim your rifle correctly with simple iron sights. This goes against our nature to aim our attention directly at our target. When you employ a red dot, the reticle immediately appears on your target.
Red dots improve distance accuracy. My pistol's iron sights almost entirely obscure my target when I practice from 25 yards away, making fine-tuning exceedingly challenging. I can see my target well thanks to an optic like a red dot. Once more, all I have to do is line up my dot and fire.
Your target is brought into focus by red dots. I can see what and where I want to shoot thanks to the optic and its reticle. My aim naturally occupies my attention, which makes acquiring it simpler. I can also track moving targets with ease or switch between targets with ease.
In low light, red dots are very noticeable. You can change the brightness of your red dot on the majority of models to suit your surroundings. In bright sunshine, you can crank it up; in dim light, you can turn it down. Even when using night vision goggles, where your night sights would be unnoticeable, the red dot is still visible.
It may be simpler to spot red dots. If you have trouble seeing iron sights, adding a red dot can help you shoot more accurately. A red dot can help people with aging eyes improve their accuracy.
It may be simpler to detect red dots. If you have trouble seeing iron sights, adding a red dot can help you shoot more accurately. A red dot can help people with aging eyes improve their accuracy.
DISADVANTAGES OF USING RED DOT
Red dot batteries, while effective and long-lasting, will ultimately run out when powering red dots. If you don't keep up with maintenance and battery replacement, it might not function when it matters.
Red dots can be destroyed. The red dot optic of your gun is constructed of a thin glass lens enclosed in a frame made of plastic or light metal. The glass might shatter. The frame might snap. It is possible to remove the entire optic from its mounting. This whole situation can make your optic unusable.
The red dot may lose zero. While the majority of red dots are built to withstand damage, they occasionally lose their zero. When that occurs, your intended point of impact and the actual point of impact of your shot are no longer the same. You might miss your shots if you lose zero when accurately placing tenants.
Red dots may "disappear." Red dots sometimes have picky eyeboxes. You risk losing the dot if you don't present your firearm correctly. When out of alignment, red dots don't provide the same visual clues as iron sights offer. Under pressure, it may be tough to spot your dot if you can't find it.
Red dots are less effective up close. Most defensive handgun uses take place within 15 feet or less. Red dots are far superior to iron sights at a distance, but they may perform poorly at close range, essentially ineffective in most self-defense situations.
Carrying red dots can be tricky. They can be challenging to holster due to their large size. You may rub on the lenses. It may catch the corner of clothing. If you choose to carry one, you must take all of these issues into account.
The glass is extremely strong and transparent. You can see your targets clearly and without any color distortions thanks to the true-color multi-coatings. It also extends the life of the battery. The illumination settings are where this optic really shines. Depending on the shooter's preference, the optic offers automatic or manual brightness settings.
The optic automatically adjusts to the ambient surroundings, which is the most soothing feature for home defense.
This means I don't have to take my hand off the handle when I run from my well-lit home into the pitch-black night.
Eight manual brightness levels are available, two of which are for NVDs and super-bright. NVG shooting with a pistol is simple at the lowest brightness levels.
Eye relief as a red dot sight is limitless
With a pistol, sights are subjected to a great deal of abuse. Thanks to the military-grade aluminum alloy and aircraft-grade aluminum construction, the red dot sight is built to withstand abuse.
The magnification-free glass provides for quick target acquisition in close combat while the red dot itself enables precision across a small range of distances.
Additionally, there is no parallax at all.
This red dot sight has superb glass clarity. This is because the lens is multi-coated. The blue tint enhances the genuine red dot while the multi-coated lenses aid in light transmission.
So you're receiving the game's most distinct red dot.
There is no limit to the eye relief, giving you a ton of flexibility when making changes.
It is built of a tough alloy of aluminum. It has a great black matte appearance and can withstand a lot of punishment from any terrain.
It is so made to last for many years.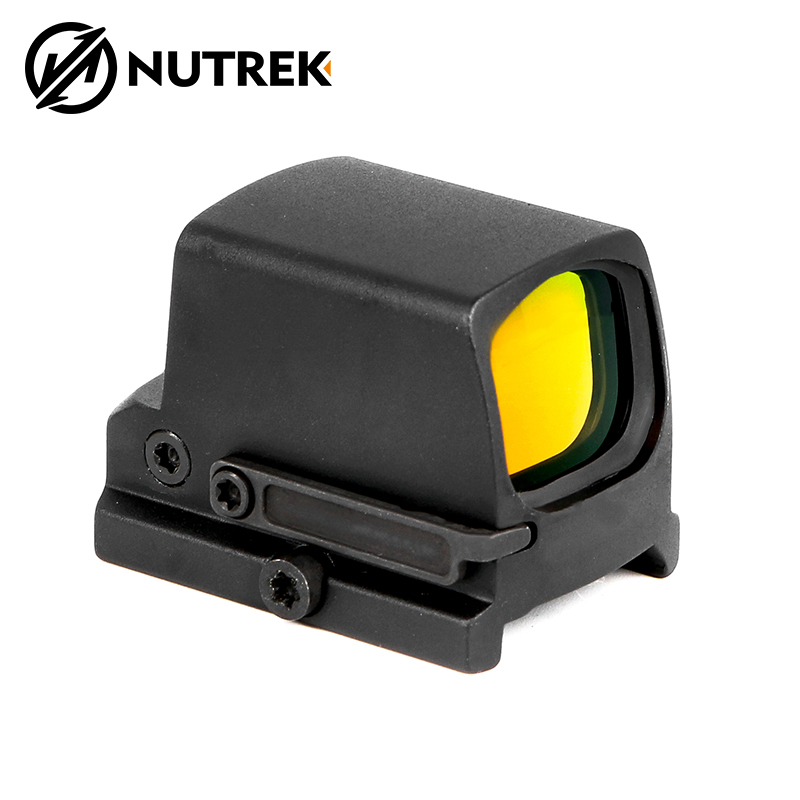 This red dot sight is ideal for adding to your handgun, rifle, or shotgun.
This sight is very clear because NutrekOptics uses high-grade optical glass for its reticle. This makes it possible for the actual red dot to be clearly visible.
Additionally, there is a side button that makes it simple to cycle between the 10 brightness settings.
Its incredibly small compact size allows it to provide almost infinite eye relief.
Additionally, the eye box is the size you require as a result.
With the 3.5 MOA option, in particular, this is a great sight if you need to wear glasses or have bad vision.
Red dot scope with a 1x magnification and no parallax.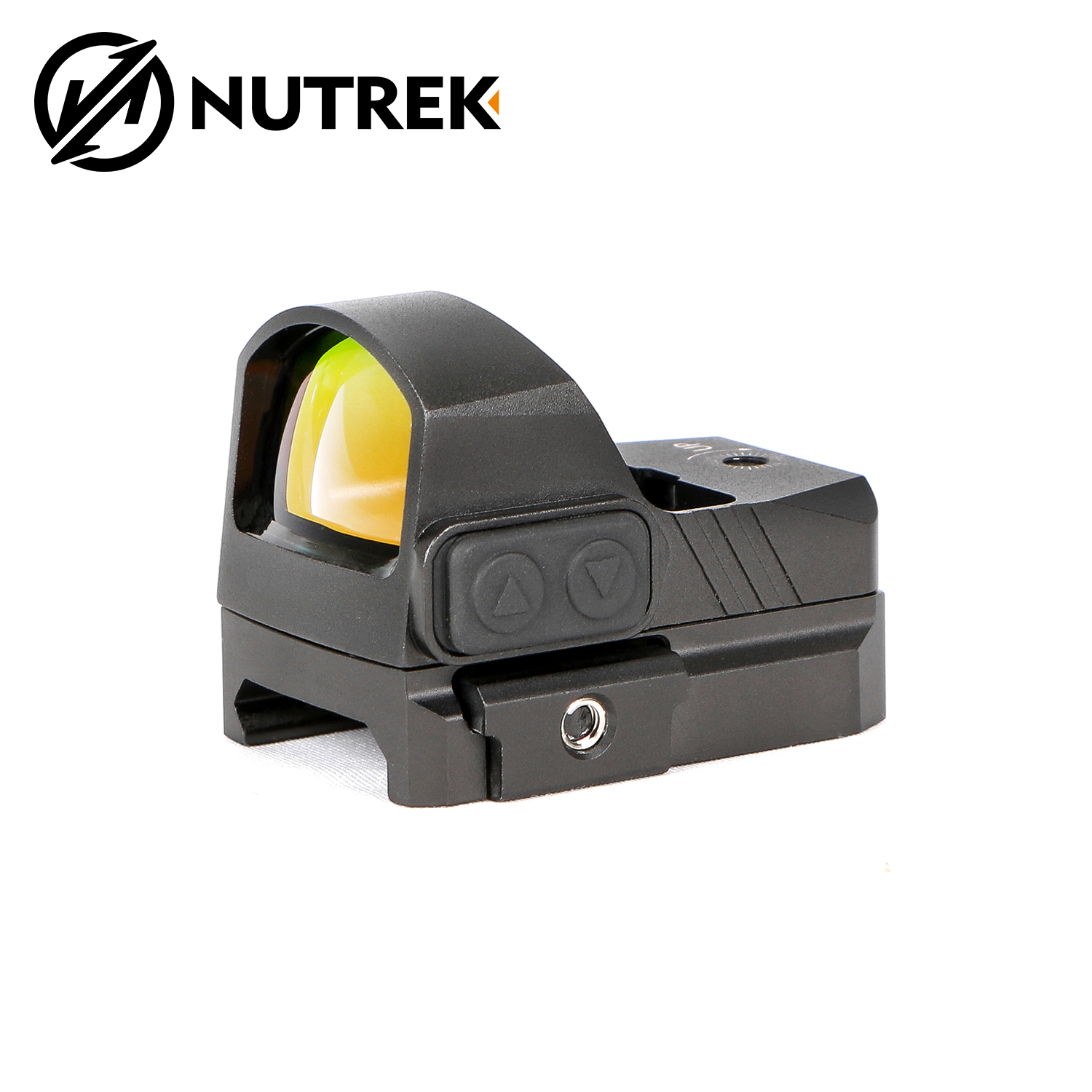 You can tell the difference in the quality of the sight image because the lens is totally multicoated. Fantastic color fidelity and light transmission. The glass is free of the tiny tinted tinge that many other red dot optics have, which is the best feature.
3 MOA are a great dot size since they are large enough to be seen clearly but not so large as to obscure any target features.
This is especially crucial for a defense weapon since you need to know what you are pointing at before you pull the trigger.
unlimited eye box and relief.
Despite being reasonably priced, don't assume that means it was built with substandard materials.
For increased strength, the optic's frame is comprised of machined aluminum. Additionally, the O-ring seal on the lens prevents any moisture, dirt, or dust from entering and damaging your optic.
Therefore, you can be confident that this optic will work perfectly in any situation.
LAST THOUGHTS
So, do you need to buy a red dot for your gun? Absolutely. Red dots make it simpler to focus on and see your target, which increases accuracy and target acquisition.
Changes, however, will take time to adapt to and adjust to, just like everything new. You'll need to retrain a lot of your muscle memory and visual memory.