For the year 2023, we pick out our 5 best riflescopes for shooters and hunters for the NutrekOptics collection. And we will present these newly designed riflescopes to the shooting community at the SHOTSHOW 2023 .

SHOTSHOW 2023
Some Riflescope Basic Knowledge
Listed below is a brief definition of certain technical words. Making a smarter purchase decision will ultimately result from understanding these.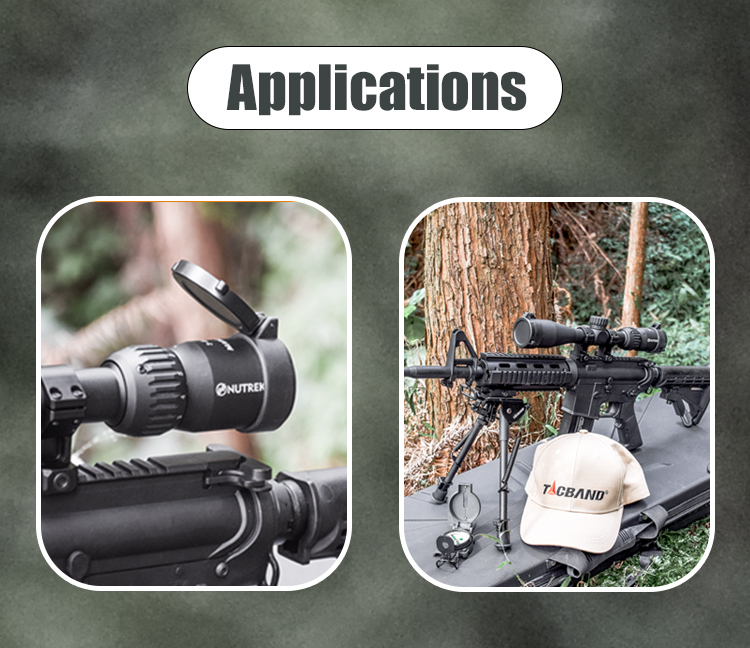 RETICLE
Reticles are simply another name for crosshairs.
Various reticles are used by different scopes in addition to conventional crosshairs.
Reticles might consist of a circle, chevron, dot, or string of lines. Everything relies on sight, and certain reticle designs are better suited for various tasks.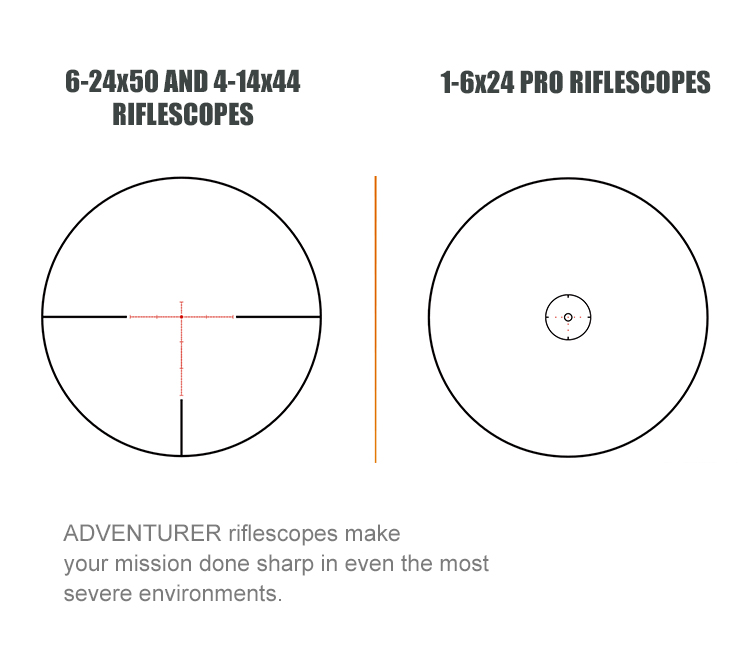 EYE RELIEF
The distance between the end of your scope and your eye is known as eye relief.
Make sure the scope you purchase has adequate eye relief so that the recoil of your rifle won't accidentally smack you in the eye. (This is known as "scope bite," and believe me, you don't want to actually feel it!)
Most of the time, 3.5 inches of eye relief is sufficient, but if you have a rifle with a particularly high caliber, you might want to seek longer relief.
EYE BOX
When using your scope, you should situate your head in an "eye box," which is a virtual box. The crosshairs of the scope won't be seen if you're not "in the box."
Some scopes have wider eye boxes than others, making them more tolerant of issues like an uncomfortable shooting stance or a poor cheek weld.
PARALLAX
Since most rifle scopes have glass lenses, they can only be focused at a specific distance. Any attempt to utilize the scope beyond this range results in parallax.
The best way to explain parallax is as "reticle wobbling."
Basically, you have parallax issues if you move your head within your eye box and the reticle appears to shift around in the scope.
Most scopes have their parallax set at a preset distance at the factory, but others have an adjustment knob so you can change it as you shoot.
WINDAGE AND ELEVATION
On the top and sides of scopes, respectively, are knobs that are known as windage and elevation. Here are some tips for changing your
point of aim
( POA.)
The elevation is for up and down, whereas windage is for left and right.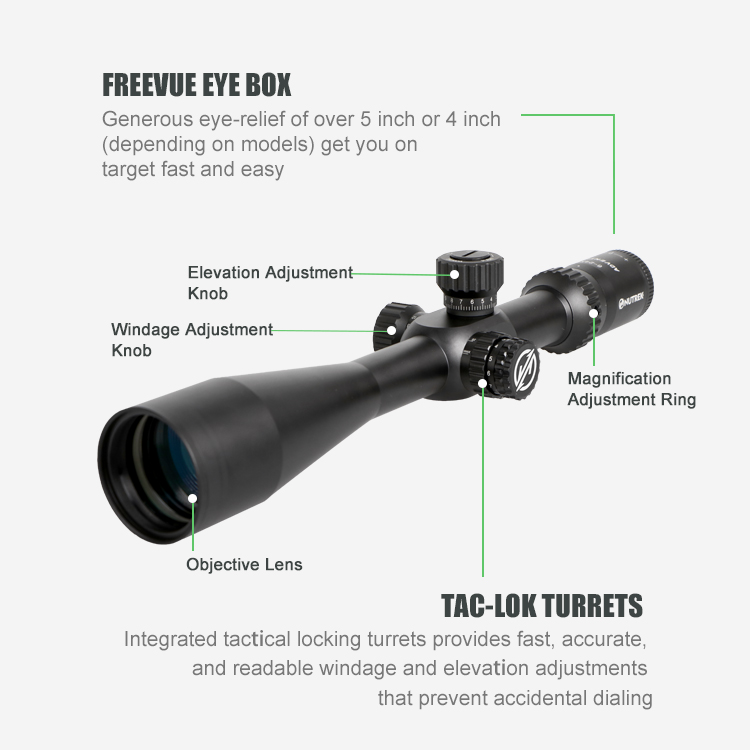 FOCAL PLANE, FIRST AND SECOND
This has to do with the reticle's actual location inside the glass lens.
As you zoom in more, a first focal plane reticle will develop.
This is very helpful for shooting at a distance. If your reticle features hash marks for elevation and windage, since they are enlarging as you zoom, their accuracy will not change.
As you zoom in or out, a second focal plane reticle stays unchanged.
Because the reticle stays constant regardless of your magnification level, it is better for defense weapons configurations and enables quick target acquisition.
ZEROING
Aligning your Point of Aim, or where your crosshairs are pointing, with your Point of Impact is the process of zeroing a scope (this is where your bullets are hitting.)
Since scopes can be mounted on many various types of weapons, you must correctly zero your scope after attaching it to ensure that it will accurately direct your bullets.
MAGNIFICATION
This is simply the zoom that the scope offers.
Fixed magnification and variable magnification are the two types of magnification available in scopes.
The degree of zoom is "fixed" and can't be increased or lowered with fixed magnification. Hence, a 6*32 scope would give you a fixed 6x zoom.
On the other hand, scopes with variable magnification allow you to zoom in and out within a predetermined range of magnification. A 6-12*32 scope would therefore provide you with a magnification range of 6x to 12x.
OBJECTIVE LENS
The size of the objective lens, or the lens on the end of the scope facing away from the shooter.
In general, a larger objective lens will enable both a broader field of view and a brighter, more defined image. This is so that more light can pass through.
However, expanding the objective lens would expand the scope's total size and weight, so it's vitally important to strike a balance that meets your needs.
Our 5 Top Picks for 2023
1.
NutrekOptics ADVENTURER series First Focal Plane (FFP) riflescopes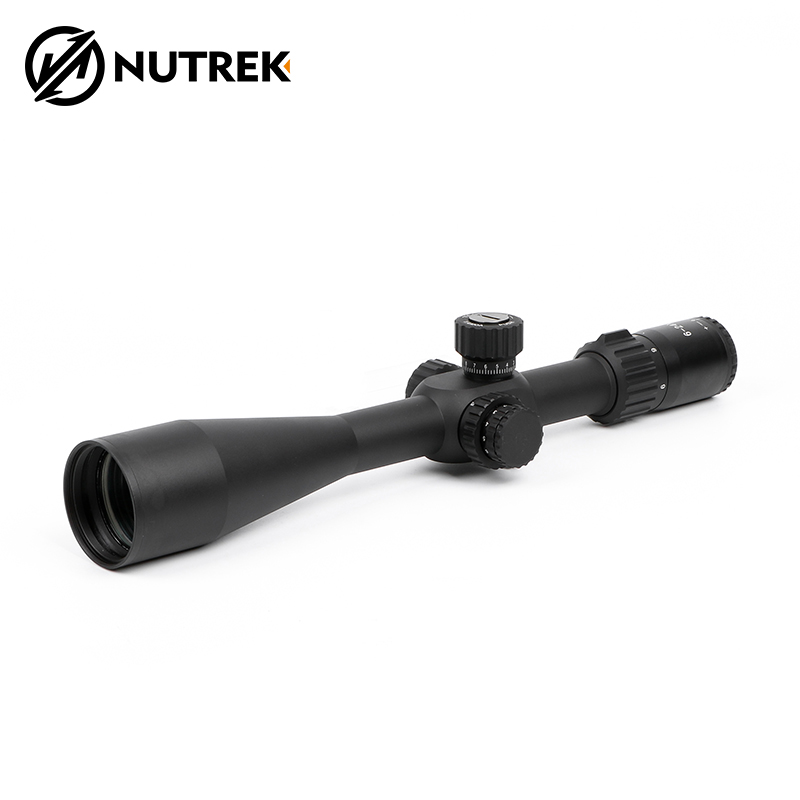 Clarity of Glass and Reticle
From edge to edge, the glass gives a sharp, clear image.
You can see better in low light thanks to the HD light system, which minimizes glare and enhances light gathering.
You can select the ideal reticle for you from a variety of possibilities offered by this sight.
Durability
The scope is lighter than any other scope in its class and highly durable.
For further protection, the lenses are also scratch-resistant.
Knobs for Elevation and Windage
The 1/10 MIL clicks are easy to feel and easy to hear with very sharp clicks, and there are 3 revolutions of adjustment.
It's also quite simple to zero. This scope zeroed in quickly for me, and because it includes a zero-locking feature, it maintains zero precisely.
Parallax & Magnification
The distances at which you'll be shooting most often must be considered while trying to select a rifle scope. For medium- and long-range targets, you have a wide selection of choices.
2.
NutrekOptics Pioneer Riflescope FFP 1-6x24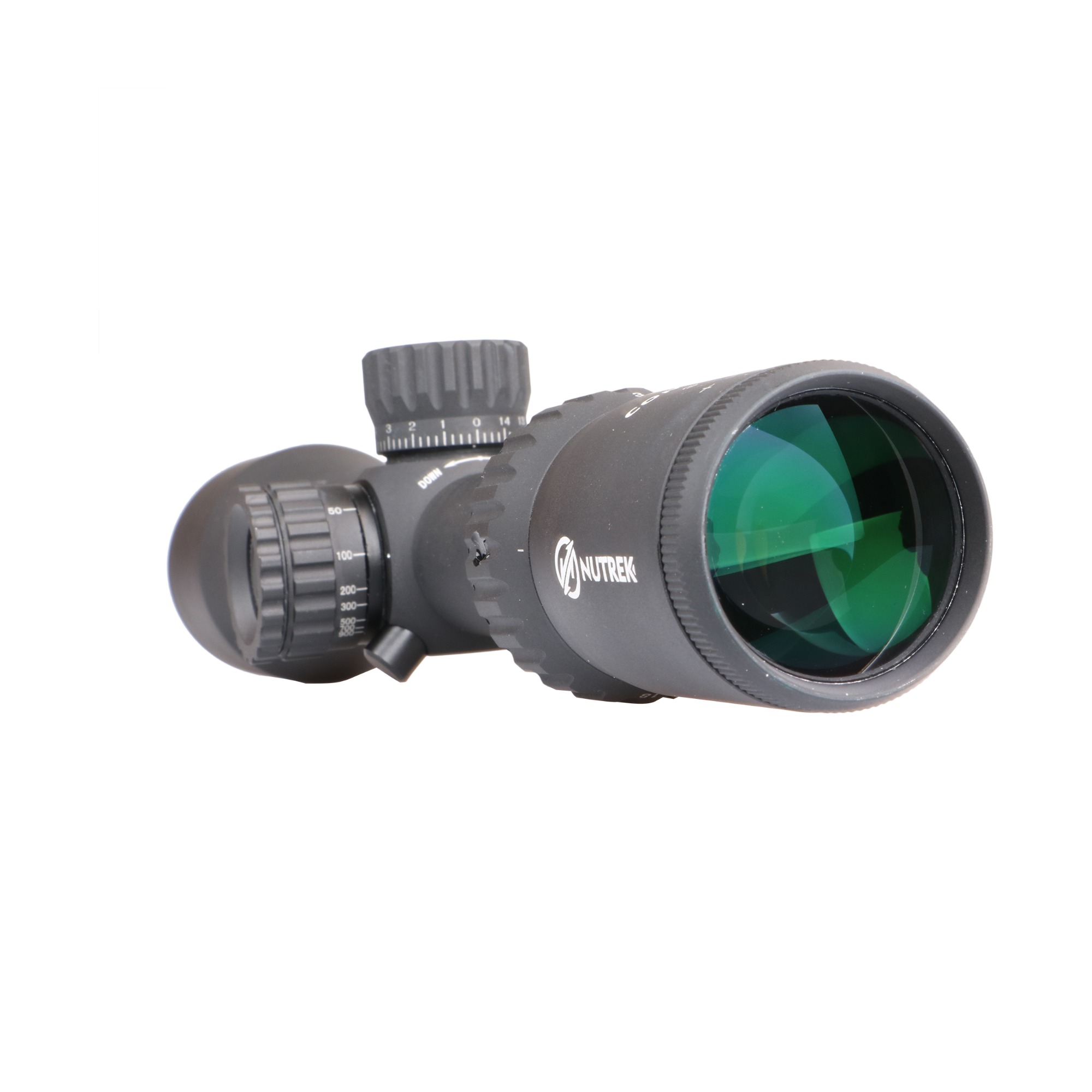 Clarity
This scope's glass quality is far superior to what one would anticipate for the price.
Except for the highest magnifications, the glass is bright and clear.
One of the premium features is the completely multi-coated lens. It enhances light transmission for a brighter image while minimizing reflection so that you don't stand out.
It has an engraved, lighted first focal plane reticle.
You typically find the first focal plane reticle in expensive scopes. It works well over vast distances.
Eye Relief
It features 136~98mm eye relief.
Durability
The lens coating guards against grime, lubricant, and inclement weather.
The scope is also O-ring sealed, nitrogen-purged, and waterproof, shockproof, and fog proof.
As a result of the one-piece tube construction, your scope will remain fog-proof for the duration of its life.
Magnification
This scope's 6x-24x magnification makes it ideal for a variety of shooting styles.
This scope is prepared and waiting for me to go hunting, target shooting, or even long-range shooting.
3.
NutrekOptics TS1 series 6-24x50 IR FFP Riflescope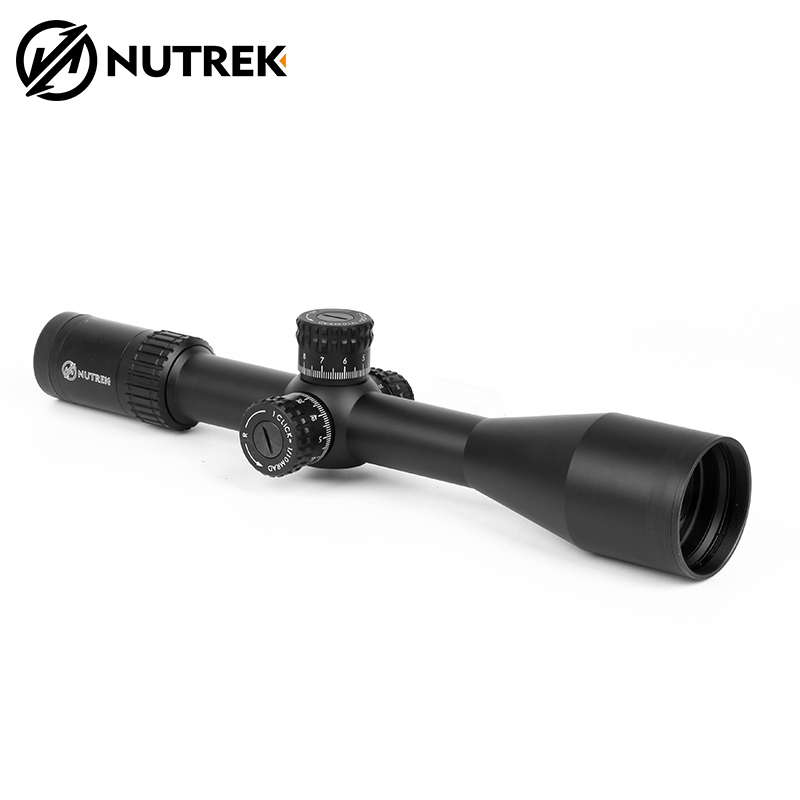 The first thing about this sight that attracted my eye was the sharp, distinct image it offers. The anti-reflective coating eliminates any distortion.
Durability
It is almost indestructible and was made to survive extreme circumstances.
It is built of lightweight, durable aluminum of aircraft quality.
The first time I took mine outside, I dropped it on a rock, and there are no scratches on it. It still functions flawlessly.
It also has a limited lifetime warranty and is waterproof and fog proof.
Parallax & Magnification
Its 4x magnification makes it ideal for medium- to short-range shooting.
There are other modes available with higher magnification for long-range shooting.
4.
NutrekOptics HUNTSMAN series riflescope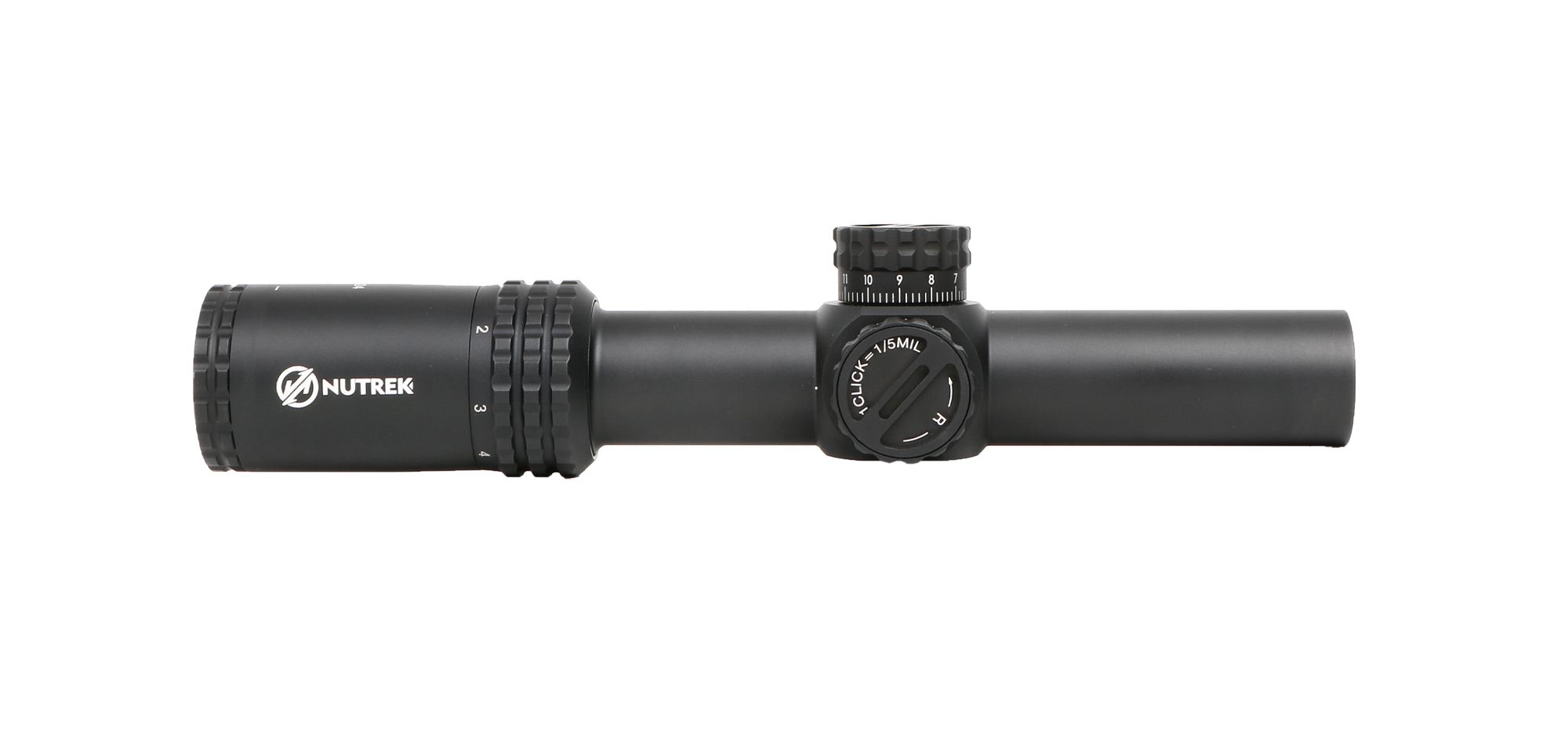 This scope's high-quality glass lens makes it exceptionally clear. No matter what magnification I choose, it was clear all the way around.
In fact, the glass is so clear that even in direct sunshine, I could see clearly.
I can spot deer at 300 yards at twilight because of the lit reticle and extended illumination area. I can't emphasize how clear it is enough, and it was a delight to use.
Eye Box & Eye Relief
The eye relief is between 96-100mm.
It had a cozy eye box, and while I was out hunting, I had plenty of room to make adjustments.
5.
NutrekOptics
M2 Riflescope 3-9x40 (AO)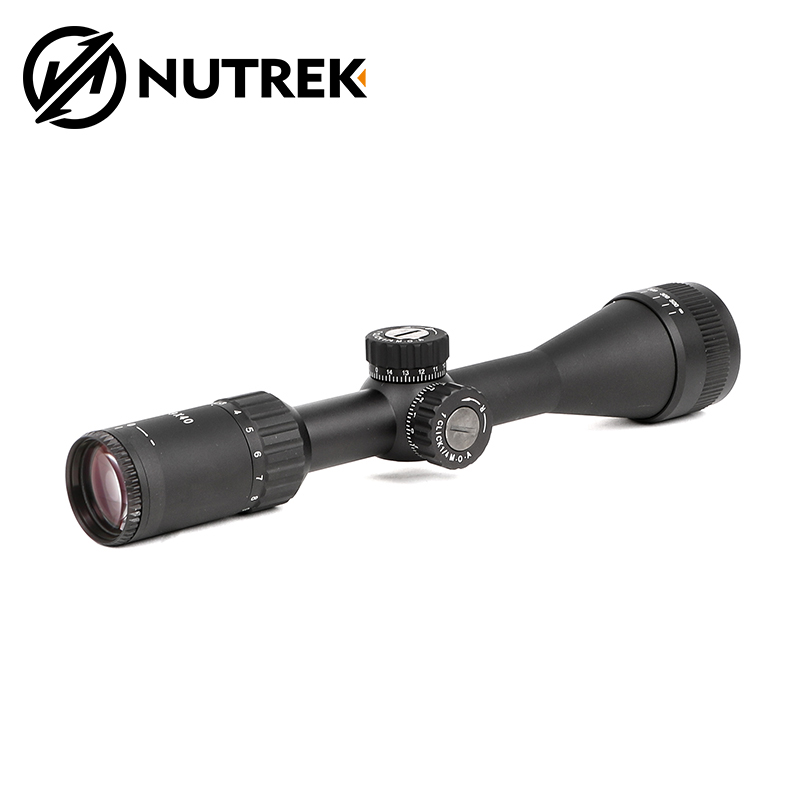 Clarity of Glass and Reticle
Its anti-reflective, completely multi-coated lenses provide me with a bright and clear visual quality. This scope has a Fast Focus Eyepiece, which I used to quickly and easily focus the reticle.
This scope includes an illuminated center dot that, according to advertising, performs admirably in dim lighting.
Eye Box & Eye Relief
It features a remarkable 95mm eye relief.
Weight and durability
This scope is completely waterproof because it is made of aircraft-grade aluminum, sealed O-rings, and nitrogen purging.
Previous topic: