The spotting scope is one such invention that ensures success in hunting, bird viewing, and long-range shooting. However, you might be wondering what a spotting scope is. A spotting scope is a compact portable telescope with high-quality optics that magnifies an item 20 to 60 times its original size.
Spotting Scopes can be used for long-range observation that requires far more magnification than binoculars. So, now that you know what to look for when buying a spotting scope.
What should you look for?
You should at least be aware of the concept of amplification. You might be wondering why this is even significant. Well, here's the deal: magnification is crucial for hunters, and it's also required for anyone interested in long-range observation. the magnification of spotting scopes has improved over time. Initially, spotting scopes had magnifications of roughly 16x and higher, but today's better spotting scopes have magnifications of 20x and higher.
You should definitely contemplate a spotting scope that starts at 27x. A spotting scope with a zoom range. Starting at 27x will provide you with a tighter zoom range and excellent images even when fully zoomed. The fact that you can acquire a clean and clear image when zooming suggests that the product is of good quality and is generally worthwhile to purchase.
It's also worth noting that the objective lens's diameter determines the intensity of light transmission as well as the resolution, therefore a larger lens will provide higher-quality photos. Spotting scopes typically have lenses that vary from 50mm to 80mm in diameter (2.0 and 3.1 in).
So, while larger-diameter spotting scopes are more expensive, their quality and overall utility will save you money in the long run.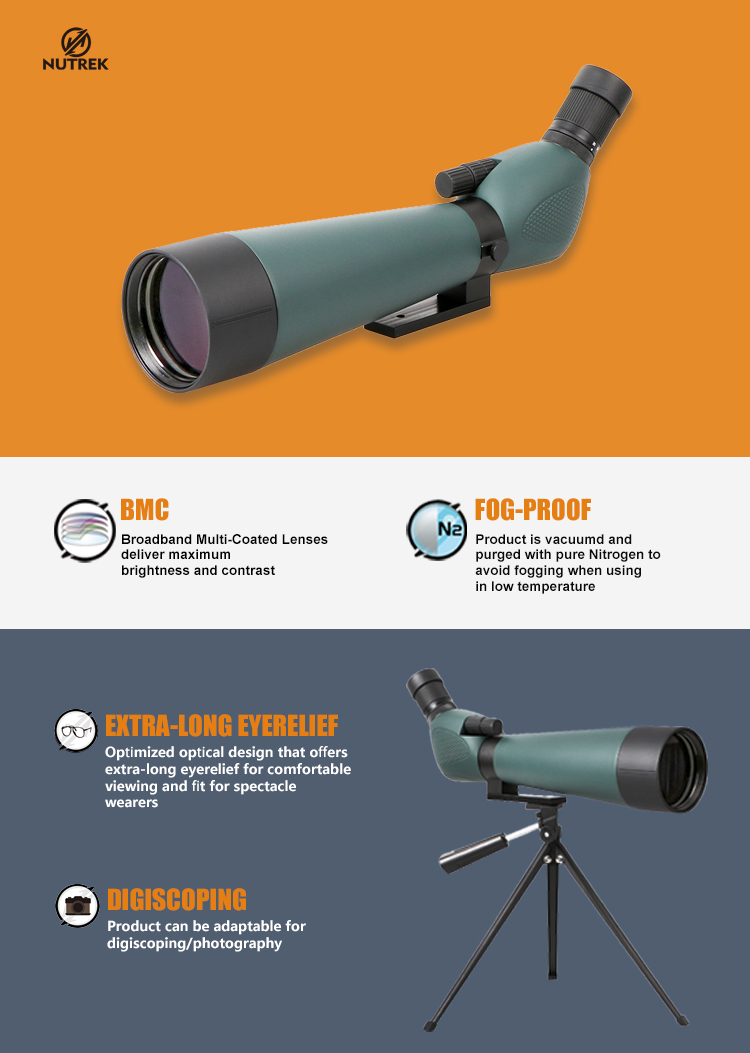 Nutrek SP04 20-60x80 Spotting Scope
HIGHEST QUALITY OPTICS
Spotting scopes, for example, have an optical mechanism that uses small refracting objective lenses or prisms, as well as an adjustable and replaceable eyepiece that allows you to choose a different magnification level. The eyepieces are either interchangeable or can be combined into a single zooming eyepiece.
Spotting scopes are popular because they are generally good at magnifying objects and are inexpensive enough to fit into most budgets. This is evidenced by the numerous testimonies and reviews.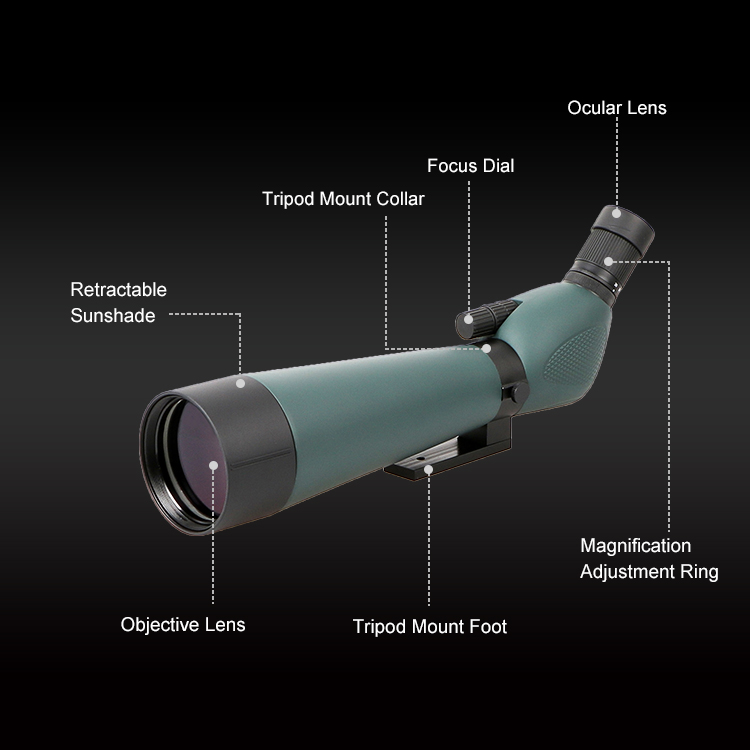 The glass quality and light transmission have been praised by a large number of reviewers. Some spotting scopes have been known to magnify targets where it is practically impossible to miss them. As a result, when compared to other scopes, spotting scopes tend to produce superior film and sharper images
RINGS WITH A HELICAL FOCUS
Spotting scopes, however, tend to stay in style because different manufacturers make changes from time to time. While some spotting scopes have focus knobs, more modern models have helical focus rings that run the length of the scope.
This not only enhances the scope's artistic appeal, but also makes it much more durable, and you should seriously consider acquiring one of the more modern spotting scopes because you won't have to deal with the previous model's one-stage focus or separate fine/ coarse knobs.
TRIPODS
Spotting scopes are made to be used with tripods particularly. This is critical since you'll need a firm mount to get the best field of view, which will influence your precision and accuracy. As a result, using a tripod is recommended for the best results.
ADVANCED TECHNOLOGY
The Phone scope, which allows you to connect your cell phone to your gadget, is another great function that certain spotting scopes have. This provides you the option of creating films, shooting photos, or doing both.
COATING FOR LENSES
Whether you're a pro or a beginner, you need to pay attention to your lens coating. What is the significance of this? It will influence the quality of your photographs and, as a result, your viewing experience. Coatings on lenses vary in degree; they might be fully coated, multi-coated, or fully multi-coated, and this has an impact on light transmission.
Lens coating boosts light transmission, and the coating you choose will determine how much light your scope transmits. As a result, fully multi-coated spotting scopes are recommended because they are the best.
RELIEF FOR THE EYES
Another element to consider when selecting a spotting scope is eye relief. The distance between the final or outside surface of an eyepiece and the user's full viewing angle is known as eye relief. This is especially beneficial for people who wear glasses because they will be able to see things more clearly with more eye relief. As a result, we recommend that people who wear glasses get a spotting scope with an eye relief of 14mm or more for the best results.
PRISMS
For a newbie, choosing a prism may appear difficult, but it is much simpler than it appears. Spotting scopes typically include refractors with built-in prisms that can turn images right side up as well as left to right. However, the roof prism and the Porro prism are the most commonly utilized prisms.
The roof prism is slim and robust, but it isn't flexible enough to allow you to swap out the eyepieces. The Porro prism, on the other hand, is the most adaptable and, unexpectedly, the most affordable.
FOG PROOF/ WATER AND DUST RESISTANT
A weatherproof spotting scope is a smart choice to consider. Many spotting scopes are waterproof and can endure a rainstorm or submersion in water. Some devices are sufficiently covered to keep fog and dust at bay. This will improve the watching experience and ensure that you get good value for your money.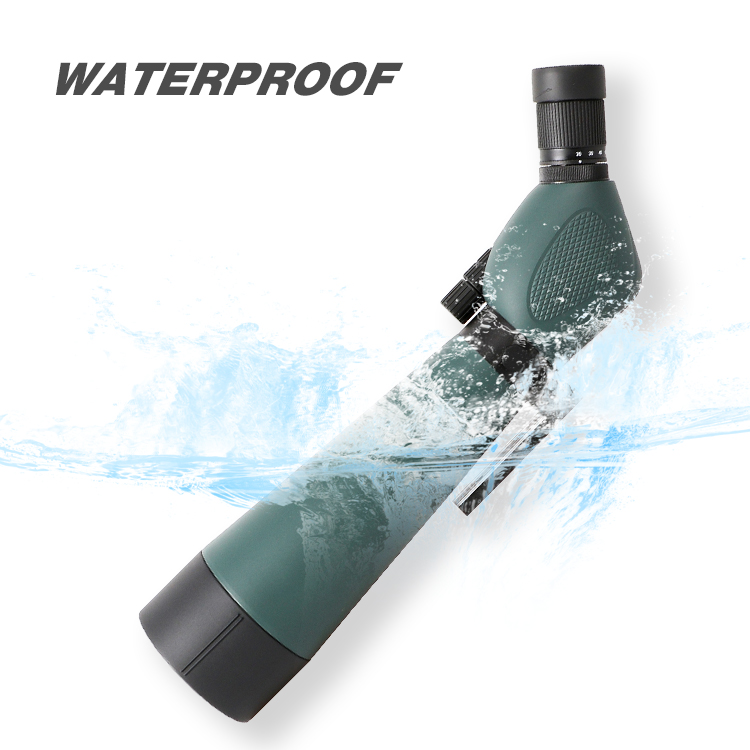 We've also discovered that spotting scopes are ergonomically engineered to withstand the harshness of almost any environment. These scopes are often inexpensive and come with utilitarian, sophisticated, and unique features.